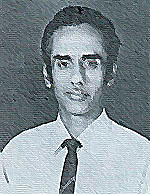 Mr. R. Mahendran served the school in various capacities for over twenty (20) years. He had the interests of the school at heart. He succeeded Mr. Panchalingam as principal K.H.C in May 1991. He put his utmost effort to maintain the standard, set by his predecessors. The college continued to shine in studies and sports. Late Mr. A. Paramanantham was a major influence in the development of sports and games in K.H.C. During his stewardship he turned out a large number of sportsmen and secured for the school high distinctions in soccer and athletics.
His place was taken by Mr. C. Balakrishnan, Mr. V. Ganeshalingam, and Mr. R. Mahendran in later years. Mr. Mahendran actively worked on a plan to expand the college playground by filling the low-lying land at Kulapiddy. With this job half-done he was transferred in January 1996 as principal of Jaffna Hindu College. Kokuvil had no replacement; Mr. K. Ganeshapillai one of the deputy principal covered up the work.
The school had a host problem, as the absence of a permanent principal at a critical period was detrimental to the school, this became the concern of past pupils and parents. With the mass exodus of people out of Jaffna in October 1995 Kokuvil Hindu College suffered heavy losses material wise. Beside the school lost its identity and became a tutelage of Jaffna Hindu College. The Old Students Association in Canada, Colombo and Kokuvil made representatives to the authorities and saw to it that the .school functioned as a separate entity.