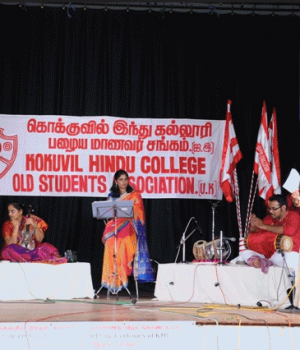 We are proudly announcing our next event, Vasantham 2022! Join us in celebrating the 30th Anniversary of KHCOSA UK on Sunday 18th September (doors open 3pm) at Nakshatra Hall, TW13 7NA.
2022 marks the 30th year of our members' dedication and diligence towards our goal of supporting Kokuvil Hindu College. With the proceeds of this event, our goal is to help fund the educational needs of KHC's feeder schools in the surrounding villages of Kokuvil.
Our website, kokuvilhindu.com, lists our aims and objectives as an organisation, if you are keen to learn more about what we do.
This year we wanted to support and showcase talented Eelam artists, including Super-Singer Puniya, expect to see a great musical performance from our participants!
Feel free to bring along your friends and family and show your support by buying a ticket. We hope to see you there!
(Please note that doors open at 3pm and the programme starts at 5pm. From 3-5pm any members and fellow old students from abroad-America, Canada, Europe- and well-wishers will be gathering, please join us before the programme if you would like to!)
18th September 2022 @ NAKSHATRA Hall, Snakey Lane Middlesex, Feltham TW13 7NA.
ஈழத்து கலைஞர்கள் மற்றும் கொக்குவில் இந்து பழைய மாணவமணிகள் கலந்து சிறப்பிற்கவுள்ளனர்!!!
SUNDAY – 18th September 2022 – Doors Open 15.00 @
Nakshatra Hall
Snakey Lane Middlesex, Feltham TW13 7NA.